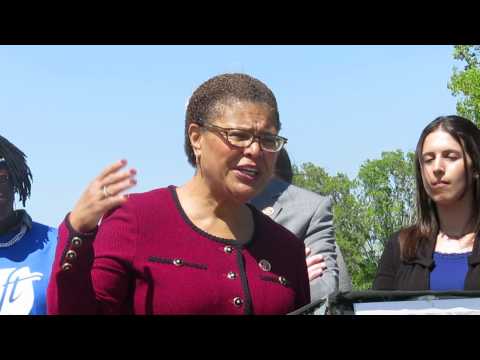 April 25th, 2013
WASHINGTON, DC – U.S. Reps. Karen Bass (D-CA)  and Joe Courtney (D-CT) on Thursday, April 25, at 2:00 p.m. will join student leaders and student advocacy groups, United States Students Association, U.S. PIRG, Campus Progress and Young Invincibles, to highlight legislative solutions to rein in student loan debt, which, one year ago, crossed $1 trillion dollars in the United States
Rep. Bass will discuss her legislation, H.R. 1330, which would allow debt forgiveness up to $45,000 after eligible borrowers have made 10 years of payments at 10 percent of their discretionary income.  Additionally, the legislation calls for suspending interest rates while borrowers are unemployed and looking for work.
Rep. Courtney will discuss his legislation, H.R. 1595, The Student Loan Relief Act, which would prevent the interest rate on subsidized Stafford student loans for undergraduate students from doubling to 6.8 percent on July 1. Courtney's legislation would lock in the lower rate for two years, so that Congress can work on a long-term solution to the crisis.
Today, April 25th, the United States Students Association  and House Representatives Karen Bass of California and Joe Courtney of Connecticut held the first anniversary of the Student Debt reaching $1 trillion in Washington, D.C.. Instead of kicking the can down the road another year like Congress did July 1st of 2012, join them by lending your support for bill HR1330 to allow students to borrow at lower rates and payback their loans easier and safer.
You can take action today! Sign the petition and share with 10 of your friends~  
For more information or interviews please contact Kalwis Lo at 202-640-6577